This vegan coconut mango oatmeal will transport you to a tropical paradise! This creamy oatmeal is a filling, healthy and incredibly delicious breakfast.
I'm a huge mango fan and every year I make a list in advance of all the things I plan to make with mangoes when the season comes. When I was a kid I used to eagerly wait for summer vacations in school because that's when mangoes typically were in season. We had them with lunch every single day. Sometimes simply diced and chilled and sometimes made into a mango lassi (find recipe here). Another favorite way to have mangoes was in the form of Aam Ras– mangoes simply pureed and flavored with a little ginger powder.
One of the meals I probably struggle with a lot is breakfast. I'm typically lazy in the mornings and don't want to spend a lot of time in the kitchen fixing myself breakfast. That's why I'm always on the lookout for easy healthy vegan breakfast recipes. Although I'm not vegan, I find that I typically prefer not to have any dairy for breakfast. That's one of the reasons why I turn so often to vegan oatmeal recipes.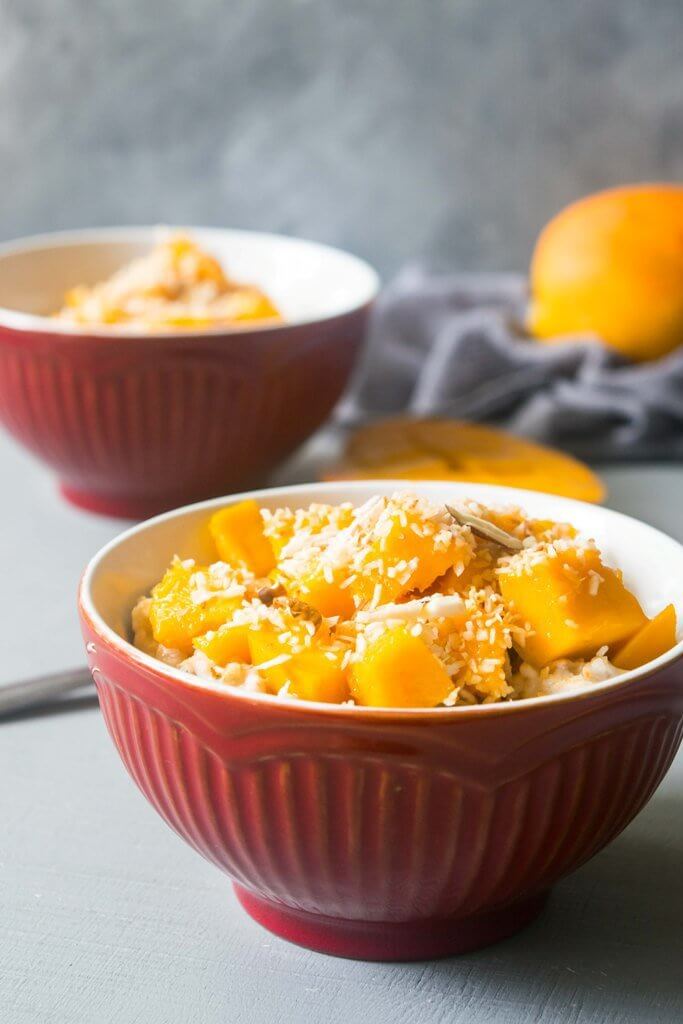 When I was out grocery shopping last weekend I spotted a box of ripe, sweet mangoes and I knew I had to get them. It took us just about four days to go through an entire box of mangoes between the two of us! When you think of mangoes you automatically think of sunny, tropical islands. That led me to coconut. Mangoes and coconut are a match made in heaven. Whether you're making a smoothie with them or dessert, those two flavors always work incredibly well together.
The very next morning I made this amazing coconut mango oatmeal for breakfast. This tropical vegan breakfast bowl is unbelievably good and I'll tell you why. Not only did I use coconut milk in the oatmeal, I also used a lot of toasted coconut to give it a boost of that coconut flavor and that made a HUGE difference! All you do then is top it with chopped mangoes, sprinkle some more toasted coconut and you're all set to be transported to paradise.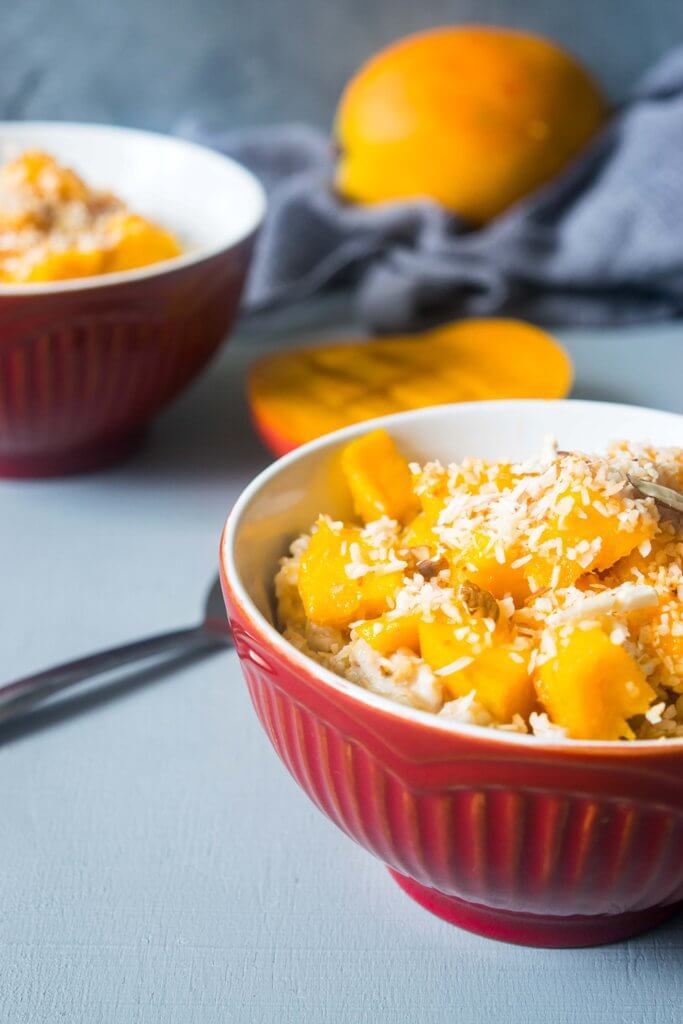 This coconut mango oatmeal recipe is a quick, nutritious, delicious and easy breakfast option when you something filling and wholesome without spending too much time in the kitchen. I didn't add any sweetener because the mangoes were sweet enough but you can add a splash of maple syrup if you need and still have a refined sugar free breakfast. It will fill you and provide your body the fuel it needs for those busy days.
If you try this recipe, don't forget to use #tlceats and tag me on Instagram so I can see your beautiful creation!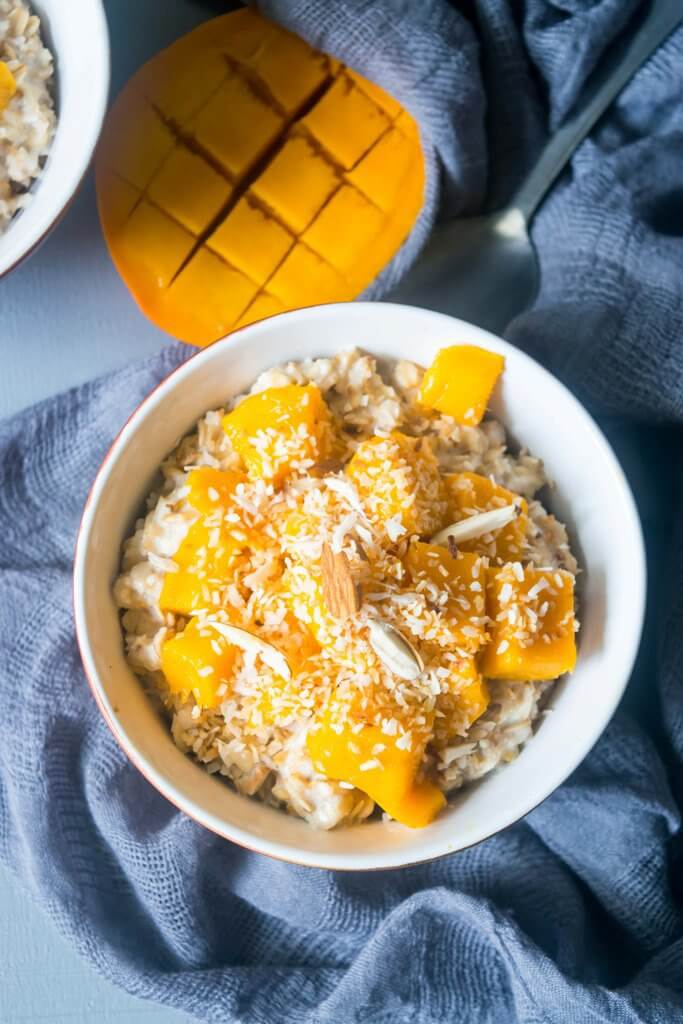 Print Recipe
Coconut Mango Oatmeal- Vegan
This vegan coconut mango oatmeal will transport you to a tropical paradise! This creamy oatmeal is a filling, healthy and incredibly delicious breakfast.
Ingredients
1

cup

old fashioned rolled oats

pick GF if you prefer

1

cup

full fat coconut milk

1

cup

water

1/2

cup

unsweetened coconut flakes

1

cup

diced ripe mango

a pinch of salt

1

tsp

maple syrup

optional

almond flakes for garnish

optional
Instructions
Place the coconut flakes in a large skillet and cook over medium heat, stirring frequently. Cook for 3-4 minutes just until the coconut flakes have started turning golden brown. Set aside.

In a large saucepan add the oats, coconut milk and water. Reserve about 3 tbsp of the toasted coconut flakes for garnish and add the rest to the saucepan.

Bring to a boil then reduce the heat to simmer. Cook for 7-8 minutes until the oats have softened and the oatmeal is a consistency you're happy with.

Take off the heat and add a pinch of salt and maple syrup if using. Stir and divide the oatmeal between two bowls. Top with chopped mangoes, reserved toasted coconut flakes and almond flakes.