These Loaded Healthy Vegetarian Nachos pack in a punch with a lot of nutritious crunchy vegetables and a homemade cheese sauce. Light, amazingly delicious and just 30 minutes!
* This post may contain some affiliate links. Please see our Disclosure Policy for more information.
The last week has been incredibly beautiful here with plenty of sunshine, cool breeze and the heady scent of freshly mown grass in the air. It also suddenly feels quite dry around here and I noticed my skin feeling so parched at the beginning of the week. Time to drink up more water!
Who else struggles to drink the recommended 8 glasses of water every day? I think I can drink more when the water is chilled and when I keep a bottle of water handy by my table at all times. But it has to be a conscious effort  every single day.
Speaking of hydration, it has been all about chilled drinks around here lately! I hardly ever buy coffee or iced drinks unless I'm traveling. I have this amazing DeLonghi Espresso Machine at home and I'm quite impressed with the espresso it makes. I've been enjoying iced lattes throughout the warmer weather. When I really want to switch things up a bit I make this Rose Pistachio Iced Coffee and it tastes incredible!
Some other iced drinks we've been making regularly in our kitchen since the last month are this Non Alcoholic Grapefruit Rosemary Spritzer and this Pineapple Lemonade. But what I've really been waiting for is peach season! You guys, I'm crazy about peaches and I can't get enough of them. They taste so good on their own but I try to use them on toasts and in dessert and in smoothies. One of my favorite ways to use peaches is in this Summer Green Smoothie Bowl.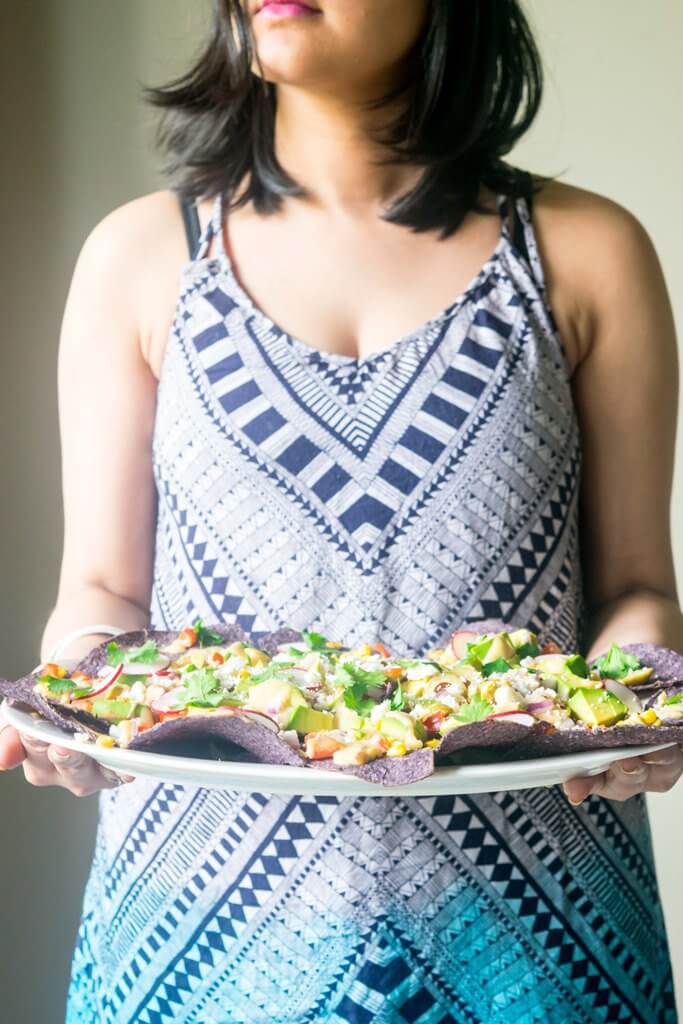 But I guess I'm getting way off topic here. What I really wanted to talk to you guys about is this Loaded Healthy Vegetarian Nachos we have going on over here. I love simple vegetarian food that involves minimum fuss and real, wholesome ingredients. Why not make nachos healthier too? These vegetarian nachos are way better than the processed junk served in most places.
These healthy vegetarian nachos make use of high quality, good ingredients. I started with healthy nacho chips and my personal favorite are these blue corn tortilla chips from Tostitos. These are organic, gluten free, non GMO and have no artificial flavors, colors or preservatives. I didn't leave out the cheese either. I personally believe that cheese doesn't really have to be unhealthy if you pick good quality cheese. This vegetarian nachos recipe has not one but two cheeses! I used a good quality strong cheddar cheese for the cheese sauce and some crumbled feta to add a bit of salty kick and tang.
This healthy nachos recipe involves a lot of nutritious, crunchy vegetables that add incredible flavor. There's tomatoes, red onions, sweet corn, radishes, avocado, olives and pepper that provide a lot of good nutrients. Most importantly though, these healthy vegetarian nachos taste so damn good! Light, fresh and that silky cheesy sauce just seals the deal for me.
This would make an impressive appetizer platter for guests. But I'll let you in on a secret. We had these vegetarian nachos for dinner! There's nothing wrong with having nachos for dinner, not this one particularly. This would easily serve 2 as a main and 4-5 as an appetizer so it's a great option when you want to whip up something healthy in a hurry. There's hardly any cooking time involved. The only time needed is for prepping the veggies. You can easily do that in advance and just assemble the platter before serving.
If you try this recipe, don't forget to use #tlceats and tag me on Instagram so I can see your beautiful creation!
Print Recipe
Loaded Healthy Vegetarian Nachos
These Loaded Healthy Vegetarian Nachos pack in a punch with a lot of nutritious crunchy vegetables and a homemade cheese sauce. Light, amazingly delicious and just 30 minutes!
Servings:
2
for Main, 4-5 as a Side
Ingredients
1 8

oz

bag of organic blue corn tortilla chips

1

cup

Sweet corn

fresh or frozen, thawed

2

large tomatoes

chopped

1

red pepper

chopped

1

red onion

finely chopped

1

avocado

chopped

2-3

breakfast radishes

thinly sliced

1/4

cup

sliced olives

a drizzle of olive oil

Salt and pepper
Cheese Sauce:
1

tsp

butter

2

garlic cloves

minced

2

tbsp

flour

1 1/2

cups

full fat milk

1/2

cup

strong aged cheddar

grated

Salt and Pepper
Garnish
Crumbled feta

A handful of cilantro
Instructions
Preheat the oven to 350 degrees F and line a baking sheet with parchment paper. Toss the sweet corn with a drizzle of olive oil, salt and pepper and spread out on the baking sheet. Roast in the oven for 5-7 minutes, just until the corn starts browning. Set aside.

While the corn is in the oven, heat a saucepan over medium high heat and melt the butter. Add the minced garlic and sauté for a few seconds just until the raw smell disappears. Add the flour and stir to combine. Add the milk little by little while whisking continuously to ensure no lumps remain. Once all the milk is added and the sauce is smooth, add the shredded cheddar and stir just until melted. Remove from the heat and add salt and pepper.

To serve, arrange the tortilla chips on a large platter in a single layer. Top with the roasted corn, olives and all the prepped veggies. Drizzle as much cheese sauce as you want on top. Finish with a sprinkling of cilantro leaves and some crumbled feta cheese.