A spicy vegetarian Ramen with a deep, complex broth, plenty of vegetables and a delicious umami flavor that will guarantee everyone asking for seconds!
In the last few years I've developed an intense love for soups of all kinds. I remember hating soups when I was younger. It probably had to do with lack of exposure to the stunningly delicious varieties of soups out there but things have changed in a major way now.
While I do love the thick creamy soups and hearty chowders, I tend to favor fragrant and flavorful broths. This is probably the reason why I love Asian soups and broths so much. The use of aromatics and herbs makes the entire house smell so delicious! One of my particular obsessions is Ramen. I mean, who doesn't like Ramen?
I knew I had to come up with a really good vegetarian version of Ramen at home so I decided to take some time off my schedule last week to do it. This Spicy Miso Ramen isn't really an authentic Japanese Ramen but an amalgamation of flavors and ingredients I love and know. The broth is what makes this Ramen so incredibly delicious.
I used ingredients like dried shiitake mushrooms, soy sauce and miso to lend the broth that deep, rich umami flavor. For the spicy part I decided to add some Sriracha sauce along with a Korean staple, Gochujang. You'll be able to easily find all of these ingredients at all Asian stores and even most grocery stores these days.
This Spicy Miso Ramen recipe does call for a lot of ingredients but it doesn't really involve a lot of effort on your part. Allow the broth to simmer away on the stove for a good hour or more so that it gets the chance to develop those beautiful flavors. I caught up on an episode of the new show "Glitch" on Netflix to pass the time.
If you love your Ramen, give this easy Vegetarian Spicy Miso Ramen a try!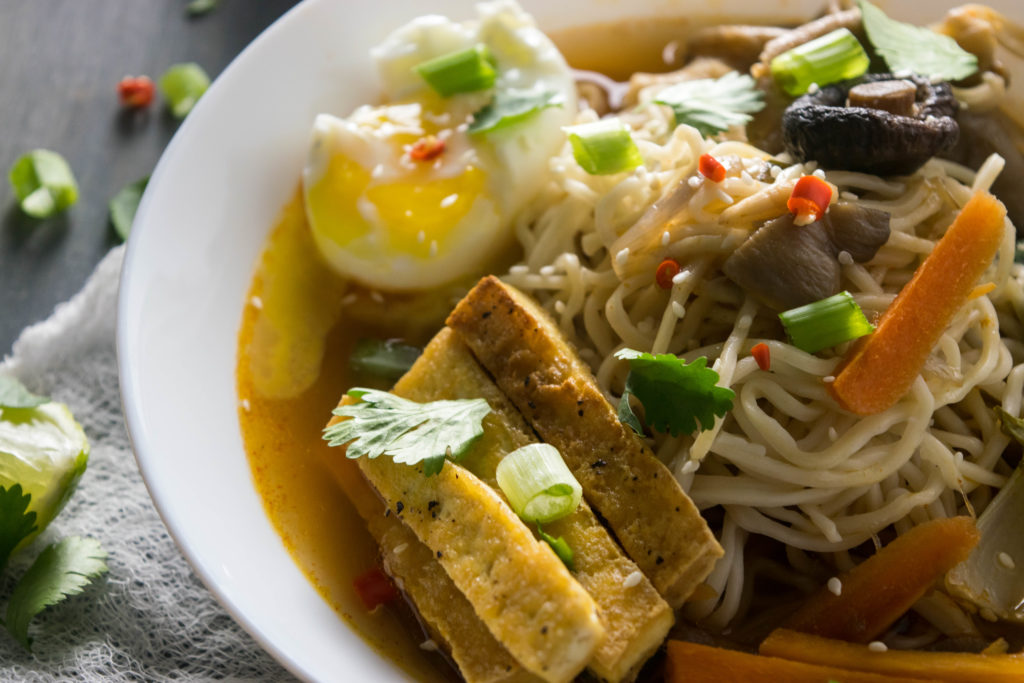 Print Recipe
Spicy Miso Ramen Recipe
This vegetarian spicy miso ramen recipe features a deep, complex broth,plenty of vegetables and crispy tofu. Everyone will be asking for seconds, guaranteed!
Ingredients
Broth
10

cups

water

10

dried Shiitake mushrooms

1

large yellow onion

2

inch

piece of ginger

6

garlic cloves

1

tbsp

vegetable oil

1 1/2

tbsp

soy sauce

1

tbsp

white miso paste

2

tsp

Gochujang

2

tsp

Sriracha sauce

1

tsp

toasted sesame oil

5

cloves

3

star anise

7-8

whole black peppercorns

Salt and pepper to taste
Crispy Tofu
7

oz

extra firm tofu

1

tbsp

vegetable oil

salt and pepper taste
Toppings
5

oz

Ramen noodles

cooked according to package instructions

4

soft boiled eggs

1

cup

oyster mushrooms

sliced

4

baby bok choy

sliced

1/2

cup

green onions

chopped

juice of half a lemon
Instructions
On medium high heat, add 1 tbsp vegetable oil to a large pot and heat.

Add the onions, garlic and ginger and sauté for about 5 minutes until the onions have slightly browned.

Add the vegetable broth, star anise, cloves, peppercorns and the dried shiitake mushrooms and mix. Next, add the soy sauce and miso and stir to combine.

Once the broth has started simmering reduce to low heat, cover and allow to simmer for an hour.

While you're waiting for the broth, place the tofu on a large plate, cover with a kitchen towel and place weight on top. Allow to rest for 10 to 15 minutes to remove all moisture.

Slice the tofu in cubes and season with salt and pepper. Heat 1 tbsp vegetable oil in a large non stick pan. Pan fry the tofu for about 3 minutes per side until the tofu is crispy. Remove from the pan and set aside.

After the broth has been simmering for an hour, remove from heat and strain the broth. Reserve the mushrooms and add them back to the broth.

Place the broth on medium heat and add the sesame oil, Gochujang and Sriracha sauce.

Add the oyster mushrooms and bok choy and cook just until the vegetables are slightly tender, about 2-3 minutes. Take off the heat. Add lemon juice and stir.

To serve, divided the cooked ramen into four bowls. Ladle some of the broth into the bowls along with the vegetables and top with the tofu, soft boiled eggs, and green onions.
Nutrition
Calories:
264
kcal
|
Carbohydrates:
19.6
g
|
Protein:
13.6
g
|
Fat:
15.2
g
|
Saturated Fat:
3.4
g
|
Cholesterol:
174
mg
|
Sodium:
604
mg
|
Potassium:
144
mg
|
Fiber:
2.8
g
|
Sugar:
4.5
g
|
Calcium:
175
mg
|
Iron:
3
mg