This Rhubarb Almond Gluten Free Cake is light, incredibly moist and easy to whip up. A simple but incredibly delicious celebration cake for spring and summer!
This week seemed to just fly off at light speed. Anyone else here feel that sometimes weeks are just passing by without you hardly noticing them? I'm not complaining that the weekend is here already. I've got some pretty awesome plans for these two days. The major plan includes assembling new furniture that was just delivered at our place.
Assembling furniture always takes way more time than you imagine it would. There's frustration and a little temper tantrum usually involved as you try your best to get your head around the inadequate and sometimes ridiculous instructions that the package comes with. I plan to manage the situation by making sure there's something delicious available to nibble at during those long hours.
Furniture assembly aside, it finally looks like almost summer around here with long sunny days in store ahead of us. It seems to me that during the warmer months I'm all about fruits. For some reason I tend to favor chocolate during the colder months and fruit based desserts over the summer months. You can see the trend over here in the recipe archives.
With luscious juicy berries, mangoes, peaches and lots of other delicious fruit in season it actually isn't so surprising. I already have plans to remake some of my all time favorite summer desserts this year again. Like this incredible Black Forest Pavlova with fresh cherries and heaps of whipped cream. Another summer time favorite is Kulfi- Indian Ice Cream with its delicate flavors and rich texture. Come peach season I'm also remaking these Grilled Peach Crostini because they're so good for snacking or as appetizers for those summer parties.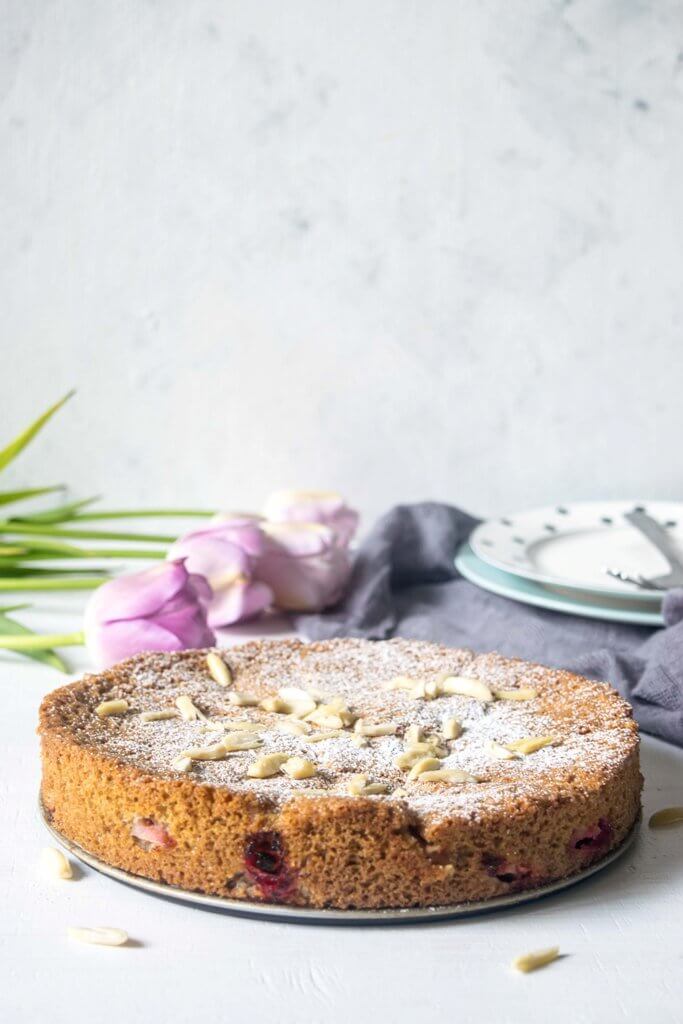 * This post may contain some affiliate links. Please see our Disclosure Policy for more information.
Let's talk about this Rhubarb Almond Gluten Free Cake recipe for a minute. This cake is incredibly delicious. It is everything I wanted it to be and so much more! It is super moist, crumbly, light and has a beautiful texture. Like I said in my last post, I'd spotted rhubarb at a farmer's market last weekend and I knew immediately I wanted to make a cake with it.
For this rhubarb almond cake I decided to roast the rhubarb first with maple syrup just so it softened slightly. While it was in the oven I whipped up the gluten free cake batter in a jiffy. The rhubarb doesn't really take too long to roast because we don't want it mushy. Then it was a matter of pouring it all in a cake pan and putting it in the oven to bake. There's no icing involved because this incredible cake doesn't need it.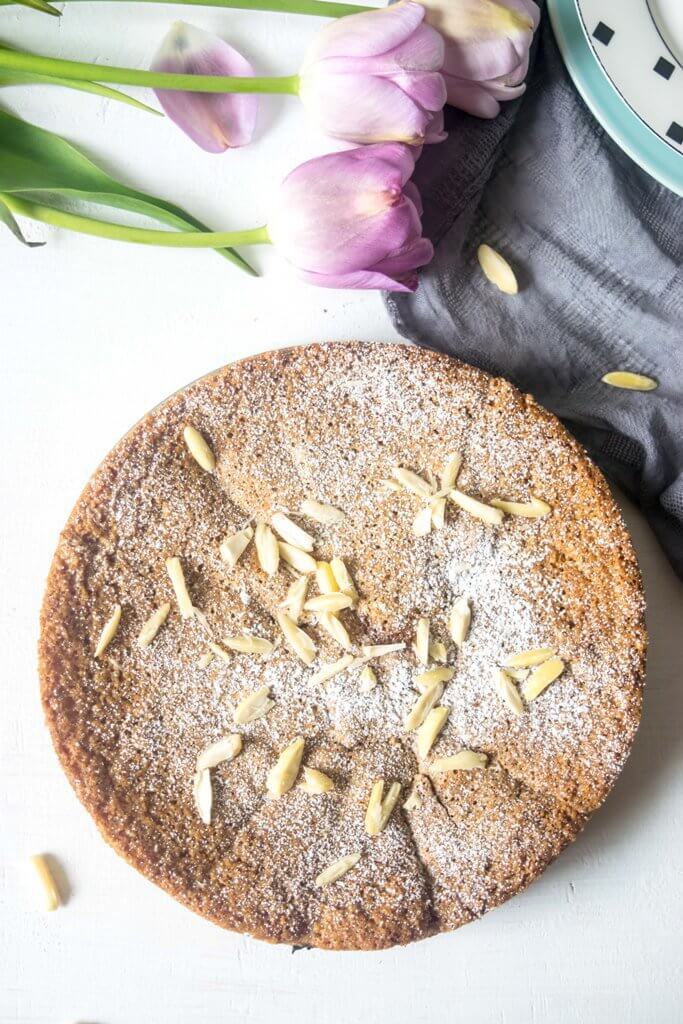 This rhubarb and almond cake is not too sweet and has that delicious tartness from rhubarb. That makes it a great light dessert option for those spring and summer celebrations and parties. I used almond meal for this gluten free cake recipe and it gave it a lovely nutty flavor and texture. Another great gluten free cake recipe I absolutely love is this delicious Zucchini Cake from The Minimalist Baker.
The rhubarb in the cake better gives it moisture so you end up with lovely jammy rhubarb deliciousness in the middle when you slice the cake. A little dusting of icing sugar on top and a sprinkle of sliced almonds and this lovely rhubarb almond gluten free cake is ready to serve!
If you try this recipe, don't forget to use #tlceats and tag me on Instagram so I can see your beautiful creation!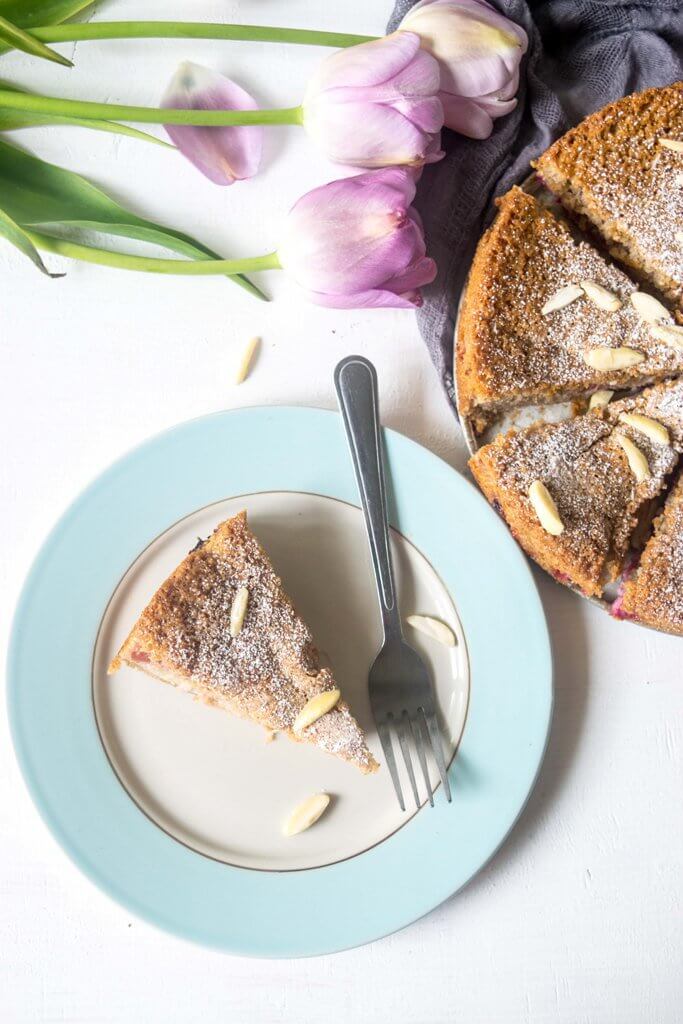 Priyanka
Yields 8 Servings
Rhubarb Almond Gluten Free Cake
This Rhubarb Almond Gluten Free Cake is light, incredibly moist and easy to whip up. A simple but incredibly delicious celebration cake for spring and summer!
15 minPrep Time
1 hrCook Time
Ingredients
3 stalks of rhubarb, sliced into 4 inch pieces
3 tbsp maple syrup
2 cups almond meal
1 cup granulated sugar
3 eggs
1/4 cup olive oil
1/4 cup whole milk
1 tsp baking powder
1/2 tsp baking soda
1/4 tsp cinnamon powder
a pinch of salt
icing sugar for dusting (optional)
Sliced almonds for garnish (optional)
Instructions
Preheat the oven to 350 degrees F and line a large baking sheet with parchment paper. Toss the sliced rhubarb with the maple syrup and arrange in a single line over the baking sheet. Bake for 12-15 minutes until the rhubarb has softened but is still holding its shape.
Keep the oven on and line an 18 inch springform pan with parchment paper.
In a large mixing bowl, add all the dry ingredients (almond meal, sugar, baking powder, baking soda, cinnamon and salt) and stir to combine. In another bowl, add the eggs, olive oil and whole milk and whisk with an electric mixer until foamy and well combined.
Add the dry ingredients to the wet ingredients and stir until well combined. Pour the cake batter into the prepared cake pan. Arrange the roasted rhubarb on top. Bake for 35-40 minutes until the center is firm and the cake has browned. The rhubarb will sink to the middle of the cake during baking.
Allow the cake to cool for 10-15 minutes before releasing it from the pan. Dust with icing sugar and sprinkle the sliced almonds on top before serving.
7.6.2
44
http://www.thelastcookie.ca/rhubarb-almond-gluten-free-cake/